The Gulf Coast region of eastern South Carolina, including Charleston, is known as the "Lowcountry. It is blessed with abundant nature and is a treasure trove of fresh ingredients such as oysters, shrimp and other seafood, as well as numerous vegetables and rice. Therefore, Charleston has many high quality restaurants that use local ingredients! Here are three restaurants that both the Charleston Convention and Visitors Bureau and the locals recommend to make your trip a happy one.
This is the place to get fresh ingredients grown in the Lowcountry!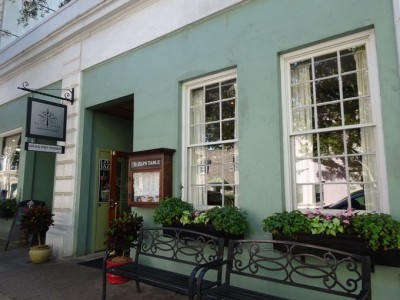 The "Lowcountry," the lowlands along the Gulf Coast of South Carolina, is full of simple and healthy foods. Seafood such as oysters, crabs, and shrimp, vegetables such as collard greens and okra, rice, sweet potatoes, peanuts, beans, and many other ingredients familiar to Japanese people are available.
Eli's Table is a restaurant that serves delicious dishes using local ingredients. When you enter the quaint building, you will be warmly welcomed by the friendly staff. Eli's Table is very popular because of the warm hospitality and the new style of food created by the talented chefs.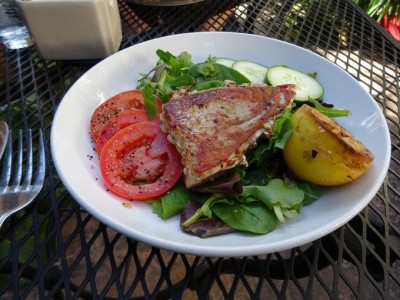 The photo shows today's recommended fish dish, grilled yellowfin tuna (Ahi Tuna) with salad. The catch of the day changes daily.
In addition to Southern dishes such as fried green tomatoes, shrimp and grits, and sweet potato waffles, the menu offers a wide variety of meals such as steaks, roast chicken, sandwiches, and steaks, as well as a variety of drinks.
When the weather is nice, choose a table in the beautiful courtyard. The service from the attentive staff is also impressive, making this a restaurant where you can spend a pleasant time.
<Basic information about Eli's Table
Address: 129 Meeting Street, Charleston, SC 29401
Phone: +1-843-405-5115
Business hours: Sunday – Thursday 8:00 – 22:00, Friday & Saturday 8:00 – 23:00
This is the place to eat their famous oysters!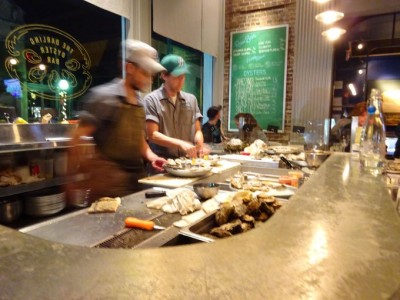 Oysters, one of the bounties of the Lowcountry, are also a must.
I recommend The Darling Oyster Bar on King Street, where you can see the oyster bar through the glass!
The sight of raw oysters being shucked and laid out fresh and plump right in front of you is very intriguing.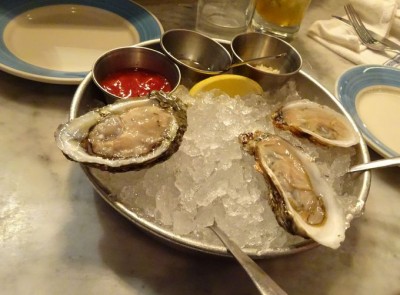 On the restaurant's blackboard, you can see the names of oysters from all over the world, including local ones. You can order a single oyster, so it's fun to compare different kinds!
You can also enjoy a variety of other seafood dishes such as grilled oysters, clam chowder, smoked salmon, and fried oysters and fish.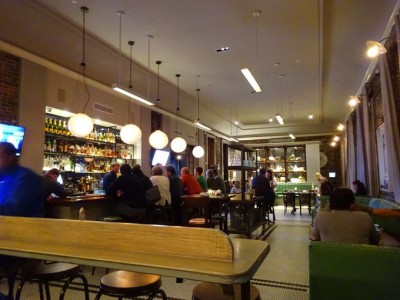 The restaurant also has a full-fledged bar with a wide variety of cocktails, wines, and beers. The Darling Oyster Bar is a place where you can enjoy the savoriness of oysters with a drink.
<Basic information about The Darling Oyster Bar
Address: 513 King Street, Charleston, SC 29403
Phone: +1-843-641-0821
Business hours: Mon-Sat 4:00 p.m. to 2:00 a.m., Sun 11:00 a.m. to 2:00 a.m.
If you're looking for a restaurant with a famous chef, this is the place!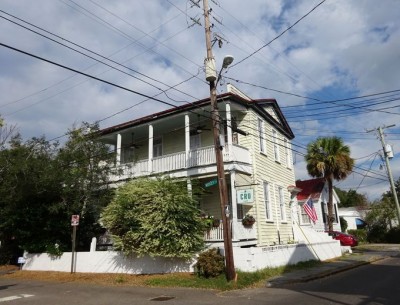 Cru Cafe is always ranked high on gourmet sites. The restaurant, which is a remodeled house, has a warm atmosphere as if you were visiting a friend's house, and you will feel comfortable both inside and outside on the terrace.
Chef John Zucker graduated at the top of his class from Le Cordon Bleu, a prestigious culinary school in Paris, and opened this restaurant in 2002 with the idea of "providing the best gourmet comfort food in the Lowcountry! He opened this restaurant in 2002.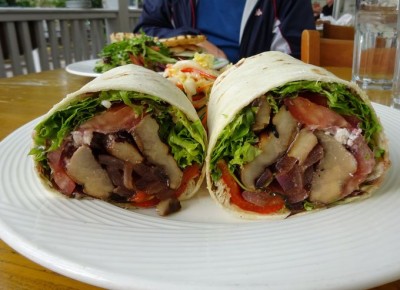 The photo shows a vegetarian wrap sandwich. The dishes are made with plenty of fresh ingredients and are hearty, with an unpretentious home-cooked atmosphere that makes me want to eat there every day!
The chef's skill shines through in every dish, and it's no wonder there are so many regular customers.
Not only do they serve Southern American cuisine, but they also offer Thai-style seafood risotto, Chinese-style chicken salad, and other international dishes that will have you on the edge of your seat.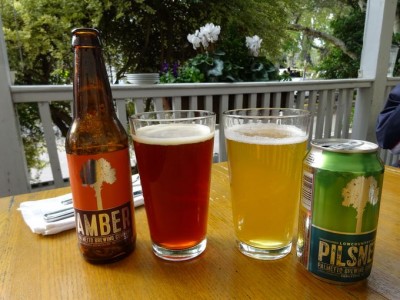 Palmetto Brewing Company is a craft beer brewery in Charleston, SC. Palmetto Brewing Company is Charleston's craft beer brewery, and their locally brewed beer goes perfectly with local food!
<Basic information about Cru Cafe
Address: 18 Pinckney Street, Charleston, SC 29401
Phone: +1-843-534-2434
Opening hours: Tuesday – Thursday 11:00 – 15:00, 17:00 – 22:00 Friday & Saturday 11:00 – 15:00, 17:00 – 23:00
Good food makes for a happy trip!
The reason Charleston has so many attractive restaurants is that it has developed a culinary culture of inventing unique dishes with fresh ingredients that are readily available. All of the restaurants I have introduced are located in the historic district, the heart of Charleston. Be sure to enjoy a taste of the Lowcountry in between sightseeing!
This information is current as of November 2017. Please check the official website for the latest information.
Charleston Convention and Visitors Bureau
Related MEMO
Eli's Table
https://elistable.com/
Darling Oyster Bar
https://thedarling.com/
Cru Cafe

Charleston Convention and Visitors Bureau
https://www.charlestoncvb.com/