Edward Dalton scrubs up and hits the cocktail bars of Hanoi to roadtest the best they've got to offer.
Sweet or sour? Flute or tumbler? Edible garnish or colourful tiny umbrella? However you take your cocktail, this guide is guaranteed to have something to get your liver in a twist, with eight bars and 16 cocktails included.
The 7 Best Cocktails in Hanoi
Don's — A Chef's Bistro
Signature Cocktail: Red Dragon and Passionfruit Margarita (VND138,000) — A velvety, zesty drink with a tropical scent, it packs a lot of fresh fruit. Stunned by the beautiful red pitaya, Chef Don paired its sweet flesh with punchy passionfruit juice. The sugar-lined rim is a decadent touch.
Must Try: Vietnamese Canadian Bloody Caesar (VND138,000) — A cocktail ideal for brunch, it brings together Clamato juice with a number of spices and sauces to deliver a savory drink unlike any other. The dash of nuoc mam acts like glue for all the other ingredients and rounds the drink off perfectly. Packs a bit of fire.
The Bar: An impressive liquor selection means almost every cocktail on the menu has a touch of class. The Ultra Premium Martini, for example, can be made with Tanqueray Ten gin and comes with a pickled quail's egg, plus Roquefort and anchovy-stuffed olives. Memorable views of West Lake from the rooftop bar and terrace.
Find it at 16 Quang An, Tay Ho. Open daily from 9am until midnight. Call 02437192828  ,  https://www.facebook.com/donsviet/
Tadioto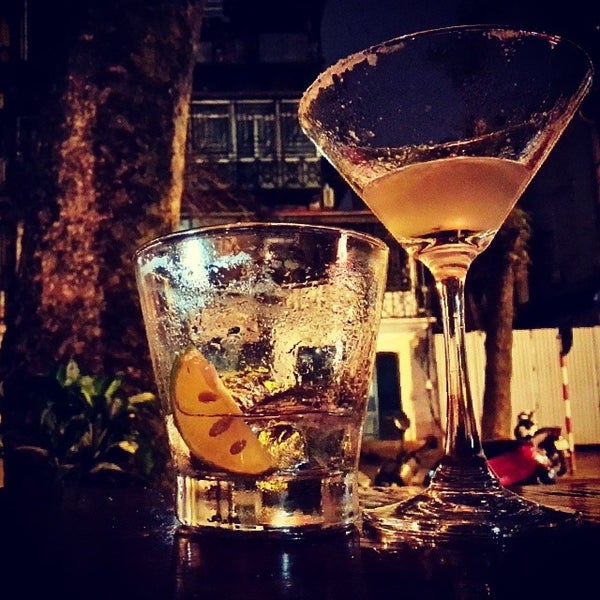 Signature Cocktail: Coc Cocktail (VND100,000) — Made with ambarella, fruit is typically eaten with chili salt, the taste is unique and somewhat tropical. Slightly sweet, with a mild bitter after-taste. It's a very fruity, fresh drink, invented by the owner, Duc.
Must Try: London Evening (VND100,000) — White and foggy like an evening in The Smoke often is, this is a sour cocktail edging towards sweet. Light and delicate, the lime flavour is dissected by a strong cut of ginger.
The Bar: Hanoi's premium Bohemian space, the vibe inside is smoky, chilled out and very artsy. Decent value, all of the cocktails are between VND100,000 and VND160,000. With nights dedicated to events such as experimental music, readings and exhibitions, Tadioto has a lot to offer.
Find it at 24B Tong Dan, Hoan Kiem. Open daily from 8am until midnight on weekdays, open until 2am on Fridays and Saturdays. Call (04) 6680 9124 or visit facebook.com/tadiototongdan for more details
One36 Bar at Apricot Hotel
Signature Cocktail: Apricot Canvas (VND180,000) — A long drink, with a gentle greenish-yellow hue. One for a sweet tooth, this apricot-flavoured cocktail goes down like liquid candy. The minty note adds a refreshing twist, and lingers on with a pleasant after-taste.
Must Try: Artist (VND170,000) — A vivid, disco-blue coloured cocktail which is best described as an alcoholic chanh tuoi (lemon juice). Light, sweet and a tad sour, the punch of citrus overwhelms the scent of booze, making this an easy drink to enjoy several of.
The Bar: Good mix of classic and signature cocktails. The minimal seating is forgiven on account of the view of Hoan Kiem. Quiet music, but the noise coming from the lake below and the rooftop pool (for hotel guests only) ensures the atmosphere is anything but dull. Acrophobes may want to stay away from the glass floor.
Find it at 136 Hang Trong, Hoan Kiem. Open daily from 11am until midnight. Contact (04) 3828 9595 or visit apricothotels.com for more details
Sunset Bar at InterContinental West Lake
Signature Cocktail: Westlake Star (VND185,000) — Don't be fooled by the dainty flute or the promise of sparkling wine; this cocktail will dropkick your liver into next week. With a generous measure of Son Tinh rose apple liqueur, and topped up with local basil and lemongrass, this is Vietnam in a glass.
Must Try: Night Sky (VND185,000) — A stunning, pitch-black cocktail which promises to delay bedtime for hours. Black glutinous rice wine, Vietnamese espresso, crème de cassis and a splash of amaretto combine like a demon's darkest spell, but the result is nothing short of divine. Unsubtle, rich flavour.
The Bar: Six pages of cocktails (VND150,000 to VND350,000) to keep you going all evening. Great location, situated on the water and surrounded by dramatic white pavilions, with a flaming torch-lit walkway. Special mention for the chilled music punctuated by the occasional zap of a nearby mosquito trap.
Find it at 1A Nghi Tam, Tay Ho. Open daily from 4pm until midnight. Call (04) 6270 8888 or visit http://hanoi.intercontinental.com/sunset-bar for more details
Hanoi Taco Bar
Signature Cocktail: Xai Lai (VND100,000) — The chilli, coconut syrup, pineapple and cilantro gives this tequila-based cocktail an impressive depth of flavour, giving way to a strong alcoholic punch.
Must Try: Fansipan (VND100,000) — A refreshing, sweet cocktail built on a light green tea-infused vodka base, with the raspberry syrup providing most of the flavour. A very gentle background hint of sage keeps things interesting.
The Bar: As one of Hanoi's most popular Mexican restaurants, the atmosphere is almost always buzzing; cool tunes and happy diners combined with the street-side location mean there's rarely a quiet moment. Simple décor, amazing value and a well-stocked bar which shines out like a beacon.
Find it at 6 Dao Duy Tu, Hoan Kiem. Open Tuesday to Sunday from 8am until 10pm. Call 01237 589502 or visit facebook.com/hanoitacobar for cocktail delivery and more details
Tay Ho Tiki Company
Signature Cocktail: Zombie (VND200,000) — Sweet contends with sour in this tropical-tasting, easy-to-drink cocktail. The ultimate vintage Tiki classic, it delivers a complex flavour profile unlike any other drink on this list, thanks to the 10 ingredients.
Must Try: The Spice Route (VND140,000) — This cocktail is a lesson in reading beyond the description. Caramelised pineapple is actually a homemade pineapple jam infused with vanilla beans and a trio of spices. It does wonderful things to rum.
The Bar: A great space, intimate without feeling cramped. The outdoor patio, featuring a water fountain and some unique seating, is very charming. Tiki-style décor including a stunning mural plus great music make this an excellent place to chill with some colourful drinks.
Find it at 228A Au Co, Tay Ho. Open Thursday to Saturday from 4pm until late. Call 0965 439573 or visit facebook.com/tayhotikicompany for more details
La Plume at Press Club
Signature Cocktail: Pho Cocktail (VND290,000) — The original and legendary pho cocktail manages to live up to the hype. Even without the gimmicky creation, it's still an excellent drink. Flaming gin and Cointreau are poured through the traditional pho spices, and the result is a beautiful, aromatic cocktail.
Must Try: Don't Eat Me (VND290,000) — The story behind the name is sadder than you might imagine, but the flavour will make you forget it in a heartbeat. Galangal root and citrus fruits combine with honey and tequila to create an acidic and spiced cocktail, but the addition of egg white smooths it out.
The Bar: Don't expect a cheap night out, but do expect cigar smoke; this is a very cool bar, where the mixologists have better haircuts than you do. US$2,000 bottles of wine share a menu with French fries, and the space includes a small terrace overlooking the French quarter.
Find it on the third floor at 59A Ly Thai To, Hoan Kiem. Open daily from 8am until midnight. Call (04) 3934 0888 or visit https://hanoi-pressclub.com/the-lounge/ for more details
Cool Cats Jazz Bar at J.W. Marriott
Signature Cocktail: Musical Garden (VND210,000) — A fragrant, light affair served with an immaculate globe of ice. Gin is teamed with jasmine tea and camomile syrup, both made in house, with a gentle citrus note provided by a touch of lemon. A real hit.
Must try: Sa-xophonist (VND210,000) — A subtle but hard-hitting whisky-based drink. A twist on the Manhattan cocktail, the Chambord adds a sweet touch, without overpowering it.
The Bar: Live jazz music from the house band, a cheese trolley and fresh oysters make any night in this stylish bar a distinctive and luxurious occasion. The drinks menu carries many of the best names in alcohol but avoids becoming overwhelming.
Find it at 8 Do Duc Duc, Me Tri, Tu Liem. Open Tuesday to Saturday from 7pm until late. Call (04) 3833 5588 or visit https://portal.marriott.com/hanjw-dining/ for more details